Centre of Excellence for Sustainable Agriculture & Farm Excellence
Aim: To experiment, pilot, establish and advocate SAFE (Sustainable Agriculture & Farm Excellence) models for promoting a safe environment and food, while creating value for all stakeholders, especially small and marginal farmers.
Projects:
Paddy project with Chauras FPC in Asgaon
Pulses project with Jay Sardar FPC in Buldhana, Maharashtra
Tomato project with Chintamani Horticulture FPC
Target group: Small and medium farmers
Impact:
FY21 - Total value unlocked in Tomato project – 78419/acre
800 farmers covered
3 projects continuing and 2 introduced new in the Rabi season
Improvement in average market realisation - from Rs6-7 to Rs12-13 per kg
15 per cent reduction in the cost of cultivation of tomatoes
Brand development activity has been completed for RNR -15048 rice (Rs 12/kg value unlocked)
Non-Farm Based livelihood - TaRa
Aim: To ensure meaningful employment for young men and women through skill development to improve the quality of their lives.
Projects: Partnering with Indian Technical Institute (ITI) facilities and LOLT - skill training centres across Vaghra in Dahej (Gujarat), Akola, and Dhasai in Maharashtra.
Target group: Men and women of employable age
Impact: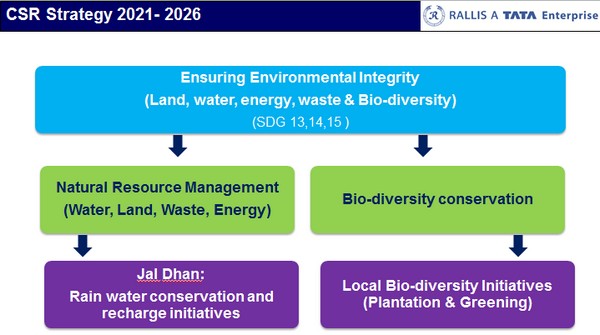 Natural Resource Management: Jal Dhan
Aim: To reduce the force of rainwater run-off, increase aquifer, construct water storage and recharge infrastructure for increasing water availability for domestic and agricultural use across the water-stressed regions of Maharashtra state.
Projects: Constructing temporary and permanent structures, de-silt, deepen, and repair existing structures for storage of water in Latur district.
In FY21, harvested 3.08 MCM of water
De-silted nullahs over 6.27 km
Created 1 storage pond
10 LBS
Target group: Villages in water-scarce regions of Maharashtra state with a minimum of 20 per cent population from the AA (Affirmative Action) category and having 50 per cent small and marginal farmers.
Impact: Impact of Jal Dhan programme on employment generation, living conditions, and agribusinesses as per an independent assessment conducted in March 2021:
60 per cent of the respondents claimed that they were able to develop the dairy business
75 per cent reported an increase in horticulture plantation, chiefly mango, guava, and lemon crops. The increase in horticulture has generated employment in the community
80 per cent reported obtaining a regular income either from the dairy business or by selling vegetables
75 per cent reported satisfactory recharge of groundwater
60 per cent declared that the programme has permanently solved the drinking water problem
Almost all women expressed relief from the drudgery of having to fetch water over long distances, resulting in improved health
90 per cent claimed that they had seen a significant reduction in seasonal migration to the cities in search of employment
Biodiversity Conservation: Prithvi Mitra
Aim: To conserve and strengthen the biodiversity of areas surrounding our plants and administrative units.
Projects: We are planting trees in mixed composition, including forest species, horticulture, roadside trees, shade-giving trees, etc., in areas across the country, by partnering with tribal communities, farmers, schools, and villagers.
Education: RUBY
Aim: RUBY (Rallis Ujjwal Bhavishya Yojana) attempts to enhance academic performance and decrease student drop-out rate.
Projects: We are providing school-going students across India with access to better facilities. The subjects of facilitation include Science, English, e-learning, career guidance, exam preparations, scholarships, etc. Currently, the activities of the initiative are being executed across the states of Gujarat, Maharashtra, Karnataka, Telangana and Andhra Pradesh.
Target group: School-going students in areas with a high presence of members from the AA category, and teachers
Impact: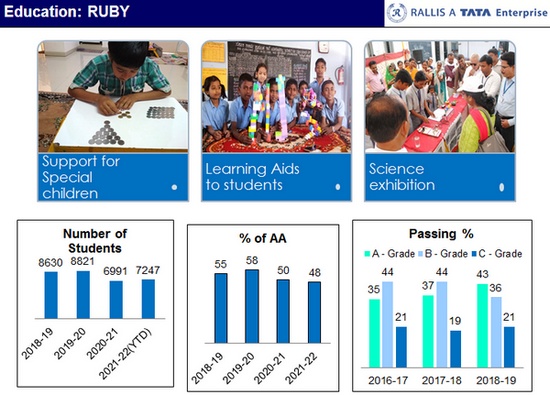 Education: You are Safe
Aim: Increase awareness about the handling of crop protection products in concerned groups.
Projects: Employee volunteers create awareness among the farming community through various forums, including;
1. Focus group discussions
2. Farmer meetings
3. Seminars and talks in schools and colleges
4. Demonstrations
5. Documentary shows
6. Wall paintings, van campaigns, posters, banners, distributing pocket diaries, etc.
The interactions focus on holistic farmer safety initiatives that spread awareness among the farming community about precautions to be taken before, during, and after spraying, including safe disposal methods.
Target group: Farmers, farm labour, spray men, students, etc.
Focus on Inclusion: Model Tribal Village
Aim: Develop integrated solutions to transform tribal villages into 'Model Tribal Village.'
Projects: Initiatives in densely populated tribal villages across Thane, Raigad, and Palghar in Maharashtra state.
Impact:
Improvement in the academic performance of students in the village and attendance by 25 per cent and 90 per cent, respectively
5 girl students from the project villages secured admissions for higher education
Impact of the programme as per an independent assessment:
The capacity-building measures have enabled women to participate in decisions on livelihoods, water, etc., resulting in dismantlement of gender bias in the society
Construction of toilets has rendered the villages open-defecation free, that has enabled women to complete their daily ablutions with dignity
Improvement in the local environment through the plantation of horticulture and forest tree species
Conversion of 124 acres of wasteland into fertile plantation
Improvement in the availability and access of water for domestic and agricultural use
Better access to electricity has improved the social life of the communities
87 per cent respondents declared that access to electricity had reduced the incidence of snake bites
63 per cent respondents bought mobile phones for enhanced communication
No infant death or maternal death in the village
Enhanced income has improved the nutritional value and quality of the villagers' diet.
There has been a marked increase in crop productivity, cropping intensity, and diversity. The farmers are now cultivating commercial cash crops such as strawberries and jasmine.
Significant reduction in migration to the cities
Covid 19 – Support through CSR
Aim: To provide support to various sections of society to overcome the challenges brought on by the Covid-19 pandemic.
Projects:
Formulation and distribution of hand sanitisers (1.7 lakh litres) to

Government of India
Government of Maharashtra
Government of Gujarat
Other state governments through Tata Chemicals Ltd./Tata Trusts

Distributed 50,000 Okhai face masks across India free of cost
Distributed 2,790 dry food kits in the community
Provided one-time meals to 1,000 migrant labourers in Dahej
Adopted endangered species for entire year from Bannerghatta Biological Park - Indian Leopard, Sloth Bear and Bengal Tiger
Provided 100 full-body gowns to hospital and police staff in Lote, Maharashtra
Distributed PPE kits to the concerned team in the Akola Municipal Corporation
Established 40 oxygen plants each with a capacity of XX normal cubic metre/hour in Gujarat for a community health centre