Rallis India Limited has been a part of the agricultural ecosystem globally, and especially India's, for over 160 years. One of the country's leading agri-sciences companies, we have acquired a reputation of being a trusted solutions provider on account of our in-depth understanding of Indian agriculture, sustained contact with farmers, quality agrochemicals, branding and marketing expertise, and a diverse product portfolio.
On-ground strength
Rallis' robust relationships with customers, channel partners, and end-users have been a key differentiating factor. The relationships have been built on a solid foundation of transparency, understanding and trust, complemented by a broad and deep market presence.
Rallis' widespread distribution network, comprising fully equipped sales offices, an expert field force and a loyal dealer community, serves farmers with a wide range of products and services.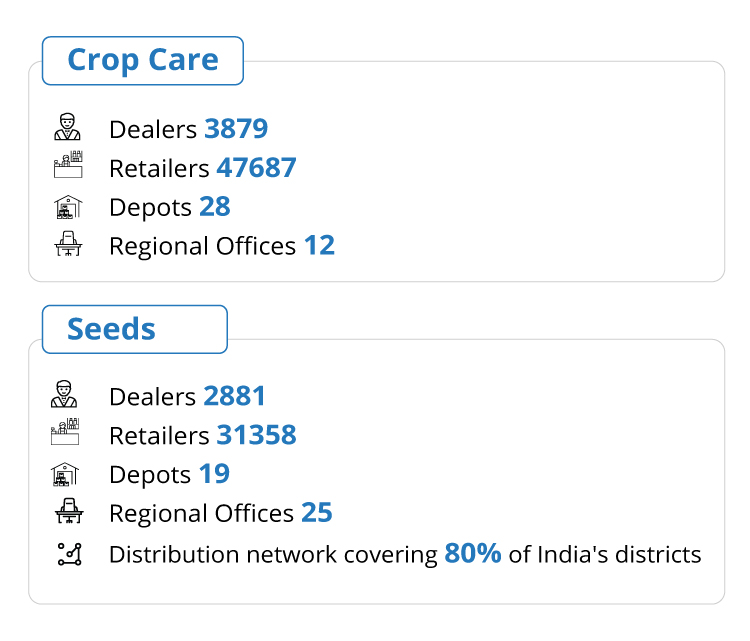 Our robust and deep presence makes us accessible to India's vast farmer community across crops segments irrespective of their culture, language, backgrounds, etc. It has enabled us to offer personalised services to India's farmers to help them receive better rewards for their efforts.
Our field personnel guide and educate the farmers about the safe and judicious use of pesticides through various forums. Additionally, the Dr. Vishwas toll-free helpline resolves farmers queries related to crop solutions and logs in their complaints. The farmers also apprise our channel partners, who, in turn, voice the feedback through platforms such as Anubandh and Bhagidari Sabha. The channel partners' contributions are also appreciated through these platforms under initiatives such as MD's elite and COO's club.
Leveraging technology
Rallis has introduced technology in various aspects of its business. Drishti combines remote sensing and artificial intelligence for predictive analysis. Similarly, technology is extensively used for training customers and the internal team. Also, app-based digital initiatives such as Samadhan - digital crop solution, Sampark - crop advisor engagement, Ebandhan portal - channel partner engagement, etc., help strengthen the Rallis-farmer bond. The feedback of customers and channel partners is captured through video testimonials and social media platforms, including Facebook, WhatsApp, YouTube, etc. Various digital platforms are also used for festival-linked brand promotional campaigns.
Marketing depth
Rallis' marketing efforts revolve around stakeholder engagement and building its brands' personalities. Through unique and innovative marketing campaigns, we engage constructively with the dealer and farmer community.
We conduct surveys and capture feedback through multiple customer touchpoints. We analyse customer brand perception and capture feedback through various surveys under the new solution development and introduction (NSDI) framework. The '4-S' campaign is an intensive customer contact programme to build long-term trust and relationships with end-users.
Rallis' marketing team organises regular interactions with farmers to facilitate the development of solution-based technology transfer among individuals and groups of farmers, respectively. On-ground promotional campaigns showcase product efficacy to farmers and channel partners on harvest days, etc., for effective brand recall and awareness.
Regular engagements enable us to consistently explore new business opportunities in crop improvement, pest control and other formulations. Knowledge obtained through gap analysis, brand workshops and strategy meets are utilised for transfer of technology, product positioning, and creating a product-specific strategy roadmap for further customer engagement.
We create the right type of brand persona through suitable customisation to enable farmers to arrive at the right choices. Our deep market penetration has resulted in enhanced mindshare for Rallis among farmers.
Product portfolio
Rallis' flagship brands, including Asataf, Contaf, Applaud, Takumi, Taqat, Solubor, and Ralli Gold, have obtained the trust of farmers worldwide. To further embellish our product portfolio, we regularly explore possibilities in various crop and other segments.
Rallis is pioneering the use of technology for developing better products. Rallis' sales and marketing team and the R&D unit explore future products and technology through the NSDI framework. Products are identified and introduced through established mechanisms such as the stage-gate method. Also, we use an innovation turnover index, a quantitative representative benchmark for revenues from new products, to ascertain the new products' impact.
Farmer connect
Farmers, being the end customers, remain a key stakeholder in Rallis' business ecosystem. Through various initiatives, Rallis guides and helps farmers to improve their agricultural yield.
Rallis Kisan Kutumb (RKK) is a farmer contact and relationship initiative to meet their ever-changing needs and expectations. Rallis organises various educational programmes under the initiative and also solves their queries. Multifarious field activities under RKK include MoPu (More Pulses), Samrudh Krishi, PRERNA, crop seminars, focused group discussions, etc., for product promotion and usage guidance. Samrudh Krishi — a unique agro advisory programme, is an initiative where customised POP (Package of Practices) are provided to the farmers for yield increase and cost rationalisation throughout their crop cycle. Through helplines and field visits, Rallis regularly addresses farmers' queries and complaints.