Initiatives for Digital Innovation
a. Manufacturing Plants
Rallis is creating new technologies at production sites to pursue stabilisation in operations through automation, safety and quality. It is maintaining competitiveness of its plants, boosting existing production base through Industrial Internet of Things (IIoT); Sensor Deployment to measure critical parameters; integration of plant equipments with ERP as well as dashboards and digital log sheets.
b. Research & Development
Rallis is accelerating R&D investments by promoting efficiency in research operations. It is implementing the Lab Information Management System (LIMS), Agriculture Research Management System (ARMS), Seeds Research Management System and digitisation of Hybrid Seed Advancement Trials Analysis Process.
c. Human Capital Management
Rallis is capitalising on digitalisation to enhance employee experience, reduce cycle time and increase its learning & development capabilities. Key steps to ensure human capital management are digital enablement from Hire to Retire Cycle digital performance management system, employee self-service platform, implementation of e-learning platform and integration with external e-learning providers.
d. Supply Chain Management
Rallis is following global supply chain management systems, aiming at better customer satisfaction and increased sales. It is also developing peripheral systems including procurement and trade management, Transport Management System and digitally signed e-Invoicing.
e. Sales & Distribution
It is deepening the connect with farmers and strengthening relationships with distribution channel through the following platforms:

Sampark, a mobile-based platform for extended sales team to service farmers

Rallis Krishi Samadhan, a mobile-based platform for farmers to access product information and farming practices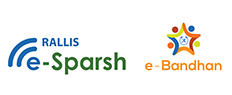 e-Sparsh and e-Bandhan, digital platforms to connect sales team and distribution
Dr. Vishwas, a digital platform for farmer helpline management

Dhaanya Edge, a digital platform to engage with retailers in Seeds Division

Drishti, a remote-sensing based crop monitoring system